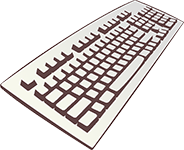 Kinetic provides full service web and stand-alone application programming and development services to meet all needs. Our team of experts has vast experience programming unique solutions to the most challenging custom software needs.
The internet affords developers and users alike some distinct advantages in the realm of software development and deployment.  As with any program, features and ideas are constantly evolving. When software is web-based, those features can be incorporated and tweaked in real time without the need for costly new version disks and installation. The cross-platform barriers virtually disappear and software can be accessed anywhere one has an internet connection. This new world of distributed, hosted, software services is our specialty. As browser standards evolve, the creation of truly cross platform web-based applications has become more and more economical.
There are many custom software challenges for which a web based solution is not optimal. When users won't have internet or network connections present at all times, when a service-based pricing model is not marketable, and when uniquely interactive applications are required, desktop software may be more suitable. Kinetic has experience programming database-driven custom software for a variety of needs.
With any custom software development comes the need for ongoing tech support. We can draft a variety of contractual technical support relationships that allow your users direct access to the experts they need. By utilizing the same developers for initial programming and later support, we foster competency and knowledge that third-party support firms cannot. And with the marvels of modern communications, your users may never know that they're speaking with our team.